What is Genomics?
Genomics is the study and analysis of an animal's genes and DNA. It allows us to determine the risks of disease and the likely difference between animals with regard to productivity and profitability.
Key facts about genomics:
Cows have 22,000 genes, forming the building blocks of each cell in their body. It is the slight differences in these that allow us to reliably predict how an animal will perform in its lifetime
The differences are essentially copying errors within the DNA. Some of these have impacts on productive capability, reproduction, conformation and disease resilience, leading to differing profitability potentials between animals
Genetic improvement is at the core of a comprehensive plan to build and sustain profitable dairy production
Genomics allows us to understand the potential of each heifer to determine how successful and profitable an animal will be in different environments and farm types
Is genomic testing with CLARIFIDE Plus for me?
CLARIFIDE Plus is for every progressive dairy farmer. CLARIFIDE Plus gives you the accuracy to drive your future:
Parent average predicts with around 25% reliability how a heifer may perform
One CLARIFIDE Plus test predicts with around 70% reliability how she may perform
It would take you at least 8 years of production to obtain the data provided by one CLARIFIDE Plus test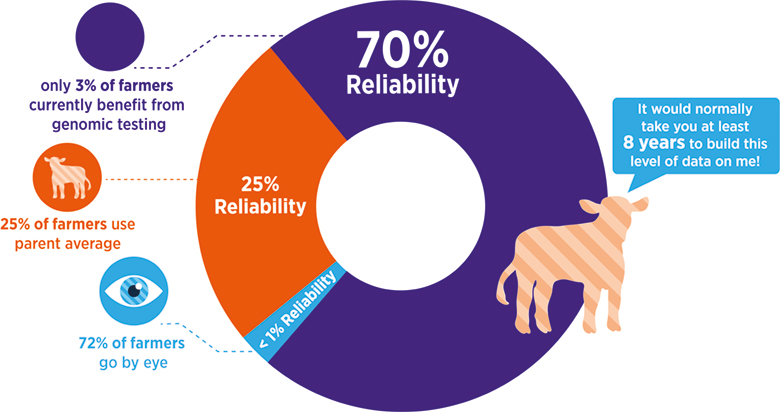 Testing with CLARIFIDE & CLARIFIDE Plus is simple...
Request sampling kits
Sample animals:
a Tissue sampling
b Hair sampling
Return the samples
View results on SearchPoint
Speak to our team of experts
See the future and drive more profit from your herd. Contact our team about CLARIFIDE and CLARIFIDE Plus today.
Share our knowledge
Benefit from expert articles about dairy livestock farming as well as the latest industry news, trends and insights.
JOIN THE COMMUNITY

You are leaving the country website to access another site in the group.
Regulatory constraints and medical practices vary from country to country. Consequently, the information provided on the site in which you enter may not be suitable for use in your country.