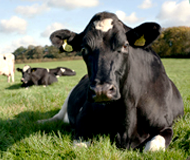 Neonatal Scour
Newborn calves are extremely susceptible to calf scours especially during their first 28 days of life.
Bacteria and viruses, by attacking the lining of the calf's intestine, cause diarrhoea. It reduces the absorption of essential nutrients from milk and leads to dehydration.
If disease is severe, the calf may die; however, even the calves which survive severe disease will have longer term poorer performance than healthy calves.