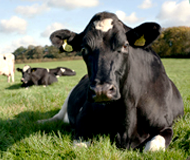 Metritis
Metritis, an inflammation of the entire uterine wall caused by bacterial infection, is nearly always seen after an abnormal birth or a marked uterine infection.
It varies from a subclinical infection to illness with pyrexia and reduced milk yield.
Metritis makes the cow more susceptible to ketosis, displaced abomasum and other postpartum ailments and can lead to impaired fertility – either temporary or permanent – and even, on occasions to death.