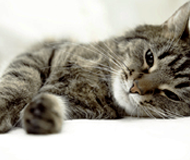 Skin and Soft Tissue Infections And Abscesses In Cats
A painful abscess, resulting from a bite wound when fighting, is a common occurrence in cats. It requires drainage and treatment with antibiotics.
The skin forms the outer covering of the body and serves as protection against a hostile external environment. This includes heat/cold, water/dryness, chemical toxins, mechanical damage, sunlight and a host of would-be invaders such as bacteria, fungi, yeasts, mites, insects and viruses.
Pyoderma (bacterial skin infection) is relatively uncommon in cats. However, subcutaneous (under the skin) abscesses in the soft tissues are relatively common.