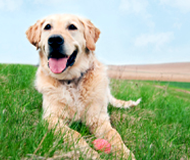 Skin Infections in Dogs
Skin infections are frequently seen by the veterinary surgeon. Skin disease can look very similar whatever the cause, with itchiness (pruritus) often occurring. Bacterial skin infections are common and may need many weeks of antibiotic treatment.
The skin forms the outer covering of the body and protects against a hostile external environment. This includes heat/cold, water/dryness, chemical toxins, mechanical damage, sunlight and a host of would-be invaders such as bacteria, fungi, yeasts, mites, insects and viruses.
Bacterial skin infection (pyoderma):
Bacterial infections often result when some skin diseases have not been successfully controlled. There are a number of bacteria living on the skin normally. These bacteria can cause a secondary bacterial infection if there is a break or defect in the skin. A bacterial skin infection is also known as a pyoderma.
Pyoderma may be localised (small areas) or more generalised (larger areas).The superficial layers of skin are the most commonly affected. However, sometimes the deep layers of skin become involved, trapping infection and possibly causing scarring.
Underlying causes:
The most common skin diseases where a secondary pyoderma can occur are:
Allergies (inhaled, dietary, contact and flea-bite allergies).
Ectoparasite infestations such as fleas, lice and mites.
Hormone disorders, such as hypothyroidism or Cushing's disease.
Surface layer skin defects (greasy skin).
Deep skin folds with irritation.

Sudden onset bacterial infections:
There are two conditions that occur much more rapidly.
(1) Abscess:
This is a bacterial infection of the deep skin layers and underlying tissues, usually associated with a bite from another animal (puncture wound), an infected wound, or embedded material such as a grass seed (foreign body) Pus is usually a feature.
(2) Moist eczema:
This is a pyoderma of the superficial layers of the skin, and commonly occurs quickly, especially on a hot humid day. An irritation such as an insect bite is often the initial cause, but the animal's biting or scratching creates a large raw moist weeping infected sore.
Non-bacterial skin infections:
Ringworm, a fungal infection of the hair and surface skin (less common)

Malassezia, a yeast infection of the skin surface which can also be common in allergic skin disease and which often occurs alongside pyoderma. It often has a distinctive odour.