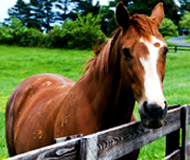 Equine Herpesvirus (EHV-1 and EHV-4)
"EHV-1" and "EHV-4" are closely related equine herpesviruses that can cause respiratory disease, abortion and neurological disease, with a dormant lifelong infection which can suddenly re-activate and result in renewed viral shedding ("EHV-3" is a venereal form of herpes, and is mainly transmitted via sexual intercourse).
EHV-1 and EHV-4 are endemic, or present in most horse populations throughout the world. Like EHV-4, EHV-1 can cause respiratory symptoms, but EHV-1 is also noted for its greater ability to cause abortions and neurological disease. EHV-1 neurologic or paralytic disease, also known as "EHM" (equine herpes virus myeloencephalopathy) is unique from other equine neurologic diseases, in that it can be spread by aerosol transmission directly from horse to horse without a vector such as a mosquito, making it a disease of concern for race tracks and horse shows.
EHV-1 and EHV-4 can be directly transmitted between horses by nasal or ocular discharges, aborted foetal material, or simply by direct aerosol transmission of the viral particles from horse to horse. The virus has an uncanny ability to lie dormant within an animal, so that no symptoms may be seen until some type of stress triggers its reactivation. Once a horse is an EHV-carrier, it remains infected with the virus throughout its life, which means that the virus can suddenly reactivate and cause disease symptoms, or that the horse can shed the virus sporadically, infecting nearby horses. These "silent carriers" who shed the disease without displaying symptoms can be a danger to any unprotected horse.
Vaccination has been proven to reduce clinical signs, and to decrease viral shedding. The reduction in viral shedding may reduce the incidence of abortion. Although no vaccine has been proven effective against equine herpesvirus neurologic disease, it is important to take measures to prevent or reduce the transmission of EHV-1 as part of a comprehensive protection strategy.