Flies
Flies cause major economic production losses in sheep.
They attack, irritate and feed on sheep and other animals. Flies can be involved in the transmission of diseases and blowflies are important due to the damage caused by their maggot stages.
Their life cycles are completed very quickly, giving rise to very rapid population expansions, highlighting the need to apply fly control medicines early in the season.
Nuisance flies may disrupt grazing behaviour in sheep, but by far the most important fly infestations of sheep are those that result in blowfly strike. Primary blowflies are attracted to protein food sources for egg laying. These include the wool of sheep which is soiled with urine or faeces, or inflamed from prior parasite infestations (e.g. lice or mites). Maggots hatching at such sites can invade an existing wound or create a superficial wound as they feed.
Severe cases can end in death due to a combination of toxaemia from ammonia, which is the main excretory product of the larvae, and from bacterial septicaemia.
fly emergence and population growths
Fly populations vary from season to season
Different species emerge at differing times of the year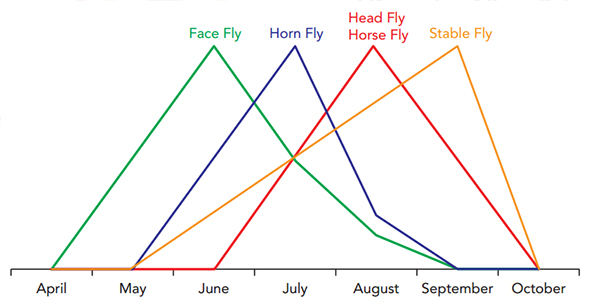 Head Flies
Head Flies

Scientific name

Hydrotaea irritans

Problems caused

Cause 'black cap' or 'broken head' in horned sheep.
Transmit summer mastitis in cattle

Feeding

Feed on sweat and secretions from the nose, eyes, udder and wounds

Season

June to October. Mainly wooded uplands of Scotland and Northern England

Breeding sites

Damp shaded areas in decaying vegetation

No. of breeding cycles

One. Large swarms mid-summer
Horse Flies
Horse Flies

Scientific name

Tabanus spp.

Problems caused

Painful bites and mechanical transmission of diseases

Feeding

Females only bite and feed on blood

Season

May to September

Breeding sites

Lay eggs in mud and damp or wet sites

No. of breeding cycles

One
Face Flies
Face Flies

Scientific name

Musca autumnails

Problems caused

Fly worry; attack eyes. Transmit 'New Forest Eye'

Feeding

Feeds on nose, eye and body secretions and moist manure

Season

Active from late spring to early autumn

Breeding sites

Eggs laid in fresh dung

No. of breeding cycles

Several. Flies emerge 7-20 days after eggs are laid
Horn Flies
Horn Flies

Scientific name

Haematobia irritans

Problems caused

Painful, irritating bites

Feeding

Feed up to 30 times a day on blood

Season

May to September

Breeding sites

Lay eggs in fresh dung on pasture

No. of breeding cycles

Several cycles per year
Stable Flies
Stable Flies

Scientific name

Stomoxys calcitrans

Problems caused

Annoyance, irritation, painful bites, blood loss

Feeding

Bites and sucks blood feeding on abdomen, udder and legs

Season

June to September

Breeding sites

Damp, decaying vegetation, feed, bedding and manure

No. of breeding cycles

Three or more. Life cycle 12-60 days depending on temperature