Liver Fluke
Disease caused by liver fluke (fasciolosis) is an increasingly common, economically important parasitic disease of sheep in he UK. The disease is caused by the parasite Fasciola hepatica.
Since around 2001, definite changes have been recorded in the regional prevalence, seasonality and severity of disease caused by fasciolosis infections of UK livestock, with particularly high prevalences following a series of wet years and concurrent spread from traditional fluke areas in western UK to normally drier and fluke-free eastern districts.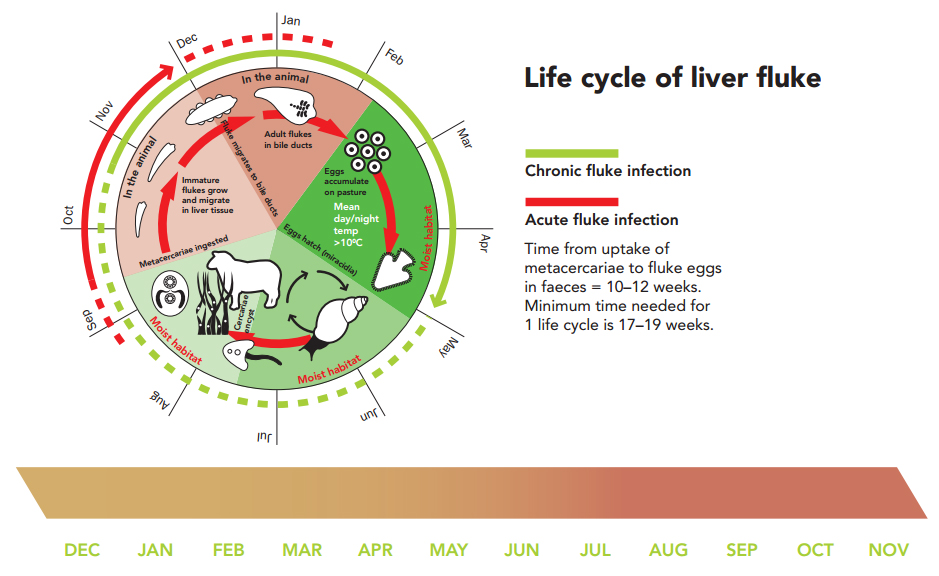 In sheep, diseases seen are:
Acute fasciolosis – caused by migrating flukes, causing liver damage. Some animals die, either due to the direct effects of massive numbers of migrating flukes, or due to clostridial disease triggered by the migrating fluke larvae. It is also an important cause of poor reproductive performance in ewes.
Black disease – This clostridial disease is typically associated with migration of immature liver flukes during late summer/early autumn and can affect unvaccinated sheep of all ages. Clinical signs are rarely observed and sheep are simply found dead.
Chronic fasciolosis – caused by the presence of blood-feeding adult flukes in the bile ducts of the liver. Affected animals are ill thrifty, anorexic, anaemic, have ascites or submandibular oedema (due to hypoproteinaemia) and may die. Most cases are seen during the late winter and spring due to the stage of infection and compounding effects of winter nutritional management. A proportion of the adult flukes that become established in the bile ducts may survive for the lifetime of their hosts. It is therefore not unusual to diagnose chronic fasciolosis as a cause of ill thrift in untreated adult animals throughout the year.
Liver fluke in sheep is becoming a more widespread condition, possibly due to climate change and movement of stock throughout the country. The stages of fluke which can cause clinical disease are:
Liver Fluke
Fluke stages
Clinical disease
Typical seasonality

Immature

Acute fasciolosis

Autumn

Adults

Chronic fasciolosis

Winter – Spring
Avoidance of high-risk grazing areas at particular times of year is an important control measure for fluke. Strategic anthelmintic treatment programmes are routinely used for the control of fasciolosis in sheep in high-risk areas of western UK. These programmes generally involve treatments during the early winter targeted at immature flukes with the aim of disease prevention, and treatments during the spring with the aim of reducing the level of environmental fl uke egg contamination.
Seasonality does seem to be changing. Farmers are advised to be vigilant for signs of acute liver fluke in sheep throughout the year, rather than just in autumn. In 10 years of VIDA data (2002–2011), 69% of acute liver fluke cases, which can be fatal, were identified in the 4 months from November to February. Mild, wet winters permit the survival of infective metacercariae in sufficent numbers to pose a disease risk, while wet summers and autumns favour the abundant development of free-living stages of the parasite and its intermediate host, the mud snail.