The following material is intended for UK professional keepers of animals, UK veterinary surgeons and SQPs only. By continuing to browse this site, you confirm that this describes you.
<< Back to list of beef case studies
calf rearer's good customer relations built on pneumonia protection
"In unvaccinated calves, we often used to get 'transit fever' in the first week or two after arrival, with rumbling chesty coughs, runny noses and raised body temperatures," Martyn Jones explains. "Then if you kept watch on these animals, they would never perform as well as healthy ones."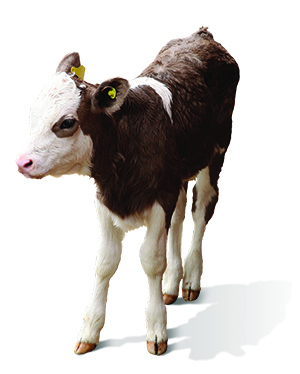 Each week, a batch of 20-25 calves is assembled for rearing at the Georges' Ty-Llo Farm near Llanidloes in Powys. Some are bought direct from dairy farms and others via livestock markets, mainly in south Wales, arriving at one to two weeks of age

From either source, Nick George says disease threats are significant due to unknown colostrum status, mixing with calves from other farms, the stress during sale and transport, then confronting new disease pathogens

The weekly routine is geared to rapid batching and minimising pneumonia risk. Calves all receive Rispoval® IntraNasal pneumonia vaccine for protection against the two main viral respiratory pathogens affecting young calves, BRSv and Pi3v

Before the vaccine was available, she says pneumonia was more or less ever present, with disease incidence at unacceptable and financially painful levels. In the first full year of use, she reports that mortality dropped quickly to around two to three per cent

As a result, calves put on more than a kilo per day throughout their 12 to 14 week stay on the unit