The following material is intended for UK professional keepers of animals, UK veterinary surgeons and SQPs only. By continuing to browse this site, you confirm that this describes you.
<< Back to list of beef case studies
<< Back to list of dairy case studies
tweaks to farming system sees pneumonia cases halved on rearing unit
Farm Name: Devon black and white dairy calf rearer
Farm Facts: 500 calves reared a year, with about 10 calves a week being sold direct to slaughter at about 400kg liveweight. Management of calves is typical of a black and white calf rearing system.
A few tweaks to the farming routine and vaccination using Rispoval Intranasal has seen the number of cases of pneumonia slashed by more than half.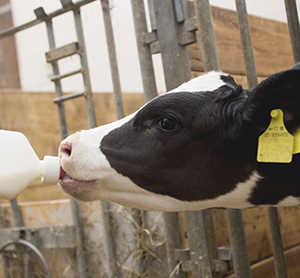 Farm background
Calves sourced from multiple dairy farms and some collection centres.

Calves reared in individual hutches and are fed three litres of milk twice a day until they are eating 1kg of a calf starter pellet a day, at about eight weeks old. Milk is gradually reduced at this point. Forage is also provided.

At eight weeks old, they are moved into groups of eight for one month and are batched into groups of 40 as they enter the main shed at about 12 weeks of age.

Animals stay in these groups until they are finished at about 11-12 months old. During this time, they are fed an ad-lib cereal based diet with straw provided as a fibre source.

On arrival, calves were being vaccinated with a pneumonia vaccine that required a booster. However, pneumonia was still an issue.
Pneumonia costs
Pneumonia has always been a challenge. Mortality for the 14-week period from November to February stood at 5.2% - with 24 out of 465 calves dying from pneumonia. Morbidity (treatments) was 13.5%, with 63 calves out of 465 treated for pneumonia.

When pneumonia was at it's worse the medicine bill was in excess of £3,000 per calendar month for the treatments alone with more than 60% of animals being treated for pneumonia.

Average growth rates were 1.3kg/day, across their time on the farm, but the target average daily liveweight gain (ADLWG) should be 1.5kg-1.7kg/day in the finishing phase.
Changes implemented
Enlisted the help of vet Molly McKay from Westpoint Vet Group by signing up to Beef4Life programme.

The service is a contract between the vet and farmer and is tailor made to focus on specific areas that provide a financial gain to the farm.

Rispoval® IntraNasal, which is a one dose vaccine that can be given from nine days of age and protects against bovine respiratory Syncytial Virus (BRSv) and Parainfluenza Virus (PI3v) was introduced as the pneumonia vaccine. The intranasal Rispoval IBR Marker Live vaccine was also introduced.

Hygiene was also stepped up in the calf hutches, with milk, water and feed buckets cleaned out daily and kept with the animals for the entire time they are in the hutches. This is to reduce any cross contamination.

Cow flow was also altered in the main finishing building so calves are housed oldest to youngest.
Benefits
Pneumonia rates have been slashed by half and treatment rates by more than 60%.

From February to May this year (2017) mortality dropped to 2.6%, which is a 50% reduction and morbidity rates were down to 5.2%, which is a 61.5% reduction in treatment rates.

Calves are also finishing quicker at about 11.5 months now instead of 12-13 months.