The following material is intended for UK professional keepers of animals, UK veterinary surgeons and SQPs only. By continuing to browse this site, you confirm that this describes you.
<< Back to list of beef case studies
lifetime productivity gaining ground as basis for calf pneumonia protection
"Whether destined for the dairy herd or finished beef, suckled or reared, a calf that doesn't grow effectively in the early weeks is often unable to catch up later," Ms Hogan explains. "So proactive management of calves is critical to maximise future productivity."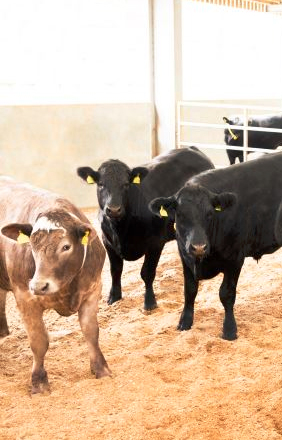 Clear evidence of farmers shifting their view of calf pneumonia vaccination towards lifetime productivity gains has been identified by a large scale survey.

At three national livestock events involving 262 farmers, 49% were between 80% confident and 'certain' that vaccinated calves had better lifetime performance than unvaccinated ones

The foundation of every calf's lifetime performance begins at birth, according to Zoetis vet Carolyn Hogan, the first two months being particularly important

One UK study found an average of 14.5% live born dairy heifers failing to reach their first lactation at all, with pneumonia the biggest known cause of mortality in calves aged one to six months