The following material is intended for UK professional keepers of animals, UK veterinary surgeons and SQPs only. By continuing to browse this site, you confirm that this describes you.
<< Back to list of dairy case studies
fine tuning calf management ups performance and health
Farm Name: Strickley Farm, Cumbria
Farm Facts: Farming 130 organic Dairy Shorthorn cows plus followers
Fine tuning calf management at Strickley Farm, Kendal, has improved calf performance and resulted in long-term benefits by reducing age at first calving.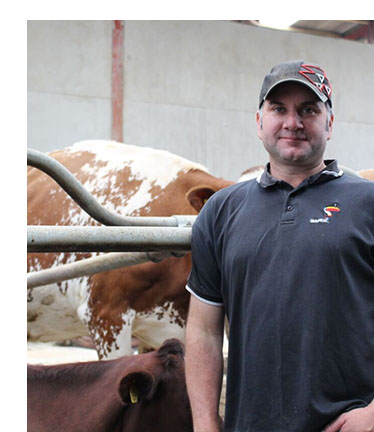 Description of calf production prior to changes being made
James Robinson has been working with his vet Kirsty Ranson of Westmorland Veterinary Group, since 2014, looking at calf performance.

They have been using Calf Tracker-an online tool that monitors the growth and health of calves from birth to weaning, with the weights of calves being measured every couple of weeks using a weigh tape and recorded in the online application.

While calf performance wasn't bad prior to 2014, Mr Robinson wanted to reduce age at first calving from 28 months.

When calves were tested to assess colostrum transfer the success rate was only 80% - meaning 1 in 5 calves failed to get enough colostrum.
Changes made and benefits to calf production
Now calves are tube fed 3l of colostrum within the first couple of hours of life.

The amount of milk being fed has been increased from 2l given twice a day (4l in total) to a total of 5l split over two feeds.

An ad lib total mixed ration consisting of a calf starter, 15% straw and 85% silage, which is chopped to 1.5 inches long, is also introduced when calves are one-week old. This is to help their rumen develop.

Calves are then weaned gradually using a step-weaning approach. From eight weeks milk is reduced from 5l to 3l a day, which allows an increased intake of cake.

All calves born from late August through to spring, are put in a calf jacket, which has resulted in about 90g/day difference in growth rates, or 5kg by weaning time when jackets are removed.

From birth to weaning in October 2013 calves were averaging 560g/day and from weaning to bulling 680g a day. Since making the management changes, calves are now averaging 850g/day from birth to weaning and 810g/day from weaning to bulling.

The target is 800g a day. This means heifer calves are meeting their target service weight of 345kg at 13 months old, which is allowing heifers to calve down from 22 months. Their average age at first calving is 26 months. Prior to 2014 was over 28 months.

By fine-tuning management and getting the heifers in calf earlier, this has resulted in the rearing time being cut by 4 months for a large proportion of the herd. If they are rearing 40 heifers a year, and it costs £1.18 a day to rear them and a large proportion of them are getting in calf at 24 months, then that's a saving of about £5,700 a year.