The following material is intended for UK professional keepers of animals, UK veterinary surgeons and SQPs only. By continuing to browse this site, you confirm that this describes you.
<< Back to list of dairy case studies
from 'could do better' to top of the heifer rearing class
"The day a heifer calf is born, you can write on a calendar when it should calve," Jimmy More says. "By making this 24 months of age, you minimise your non-productive head-count"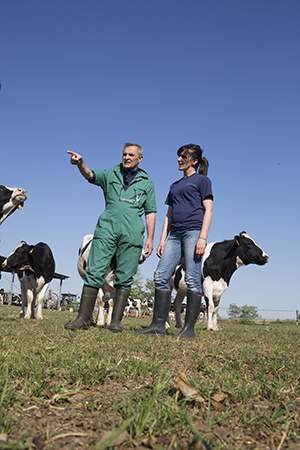 Despite two-year age at first calving (AFC) being "where the money is", vet Jimmy More from the Galloway practice in SW Scotland is alarmed that only 6.9% of heifers have been found to have calved at that age in a new analysis of the national cattle database

To address the main pneumonia problem, colostrum was stage one; well ventilated draught-free housing, stage two; and intranasal vaccination at nine days of age against the two viruses most commonly implicated in baby calf pneumonia, BRSv and Pi3v, stage three.

"People are the most important factor," David Campion says. "With clear goals, sound knowledge, high motivation and effective systems, good people can hit two-year age at first calving with no more than minimal, unavoidable casualties along the way, resulting in productive and profitable adult performance."