The following material is intended for UK professional keepers of animals, UK veterinary surgeons and SQPs only. By continuing to browse this site, you confirm that this describes you.
<< Back to list of dairy case studies
poor progress in housing design costing cattle keepers dearly
"Read and apply the advice contained in two excellent AHDB Better Returns Programme publications: 'Improve housing for better returns' and 'Pneumonia MOT'"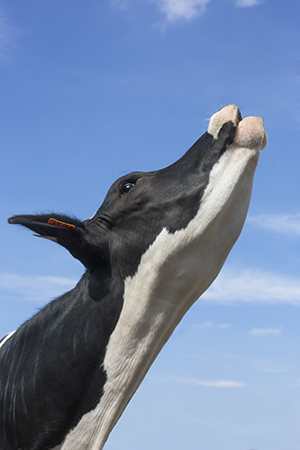 Cattle housing design has made "very disappointing" progress in the past 20 years when judged alongside performance improvements over the same period in mobile phones and computers, or tractors and cars

"For 350kg live weight animals stocked at five square metres of floor space each, the most critical aspect for ventilation is providing about 0.1 square metres of air outlet per head, and at least double this of air inlet below eaves height," said Mr Robertson. "So for 160 cattle in this shed, we need 16 square metres of air outlet, which can be achieved by taking the ridge off the roof to a width of almost 50cm along the entire 35m length.

"For fresh air inlet, 32 square metres are needed. This can be achieved by taking out 1.5m depth of cladding from the eaves downwards, along both sides of the building, and installing 30% gap cladding or the equivalent ventilated curtain system. If you follow the EBLEX Pneumonia MOT guidelines to the letter, there are some additional refinements that take account of other factors like the angle of roof pitch, for example."

Despite drainage and ventilation being cornerstones of healthy housing, infectious causes of pneumonia cannot be eliminated and are also potentially ever-present in the disease prevention picture, according to Zoetis vet Sarah Ritter. "In calves from the dairy herd like those coming here, the first three months of life are the highest risk period," she advised workshop attendees. "Nationwide surveillance shows that the viruses RSV and PI3 are the main threats to very young calves, RSV in particular being highly pathogenic - that is, highly likely to cause serious disease and, all too often, a dead calf.