The following material is intended for UK professional keepers of animals, UK veterinary surgeons and SQPs only. By continuing to browse this site, you confirm that this describes you.
Follow us!
Parassist
Parassist delivers a holistic approach to parasite control, bringing together tools, services and a portfolio of products to help you and your customers with decision making. Our dedicated vet team will partner with you to help you find innovative solutions to complex challenges and new protocols that are fit for purpose, customised to the season and your area.
Partner with Parassist for an altogether more professional approach to parasite control.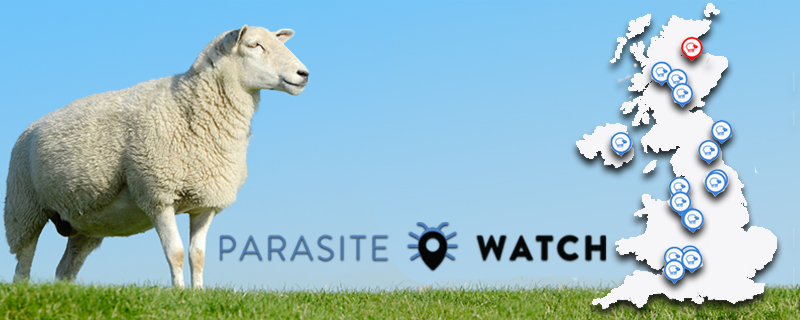 Parasite Watch
the uk's most comprehensive parasite tracking service
Working with 24 farms to bring you the latest parasite risk information for your area.
Visit www.parasitewatch.co.uk for up to date insight into the stomach worm, Nematodirus, Fluke and fly burdens in your area.
sheep: the autumn double challenge
In autumn there is likely to be a mixed burden of both stomach worms and fluke on most farms in the UK. The milder winters and wetter summers are working to increase this risk. Worm and fluke infestations individually cause production losses, a combination of both can be exponentially worse. Worms can result in a loss of up to 4.7kg live-weight and fluke can cost up to £3-5 a head1,2 .Results from the Parasite Watch farms and VIDA data suggests that mixed infestations are common: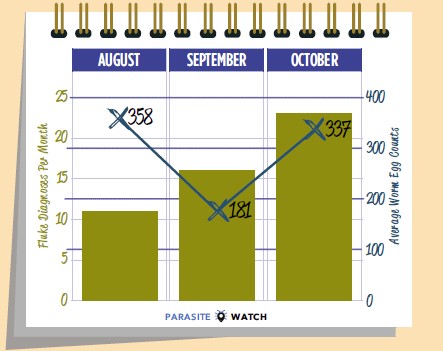 ensure your customers have the cover they require:
*WAARD Project Final Report, September 2015
CYDECTIN® TriclaMox® Oral Solution for Sheep contains moxidectin and triclabendazole.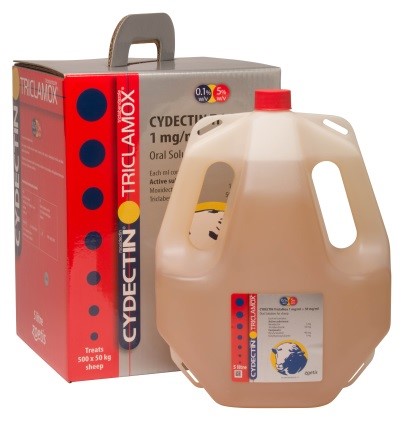 The longest persistent action against roundworms

Active against all liver fluke stages
HOUSE HEALTHY CATTLE, EARN HEALTHY REWARDS
The transition into housing is a risky time for first grazing season animals, there are so many things to consider; dietary change, weaning, grouping, respiratory disease, and how to control parasites, specifically fluke and worms.
Protecting cattle against fluke at housing rather than delaying treatment will yield a financial return by reducing stress and improving growth rates, according to a recent study3.
A trial by FAI Farms in Oxfordshire compared the effectiveness of parasite treatments in first season grazing animals. The treatments were either; the fluke and worm pour-on CYDECTIN® TriclaMox® or the worm pour-on CYDECTIN® given at housing, a group was also given no treatment to determine the impact of delaying treatment.
The stress of housing and weaning led to an 89% drop in growth rates across all groups. Cattle handled post housing also have the potential for a second growth rate dip of 20% as a result of being handled twice.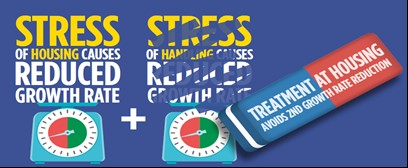 Don't delay
Cattle treated at housing with CYDECTIN® TriclaMox® outgrew those that were untreated during the 4-8 weeks post housing. It is at this time after housing that many farms would consider treating their cattle, missing out on vital growth rate and profit during the 4-8 weeks post-housing;
Animals treated at housing with CYDECTIN® TriclaMox® gained an average of 16.1kg
Cattle treated at housing using with CYDECTIN® gained 13.4kg

Cattle offered no worm or fluke treatment at housing gained 8.6kg.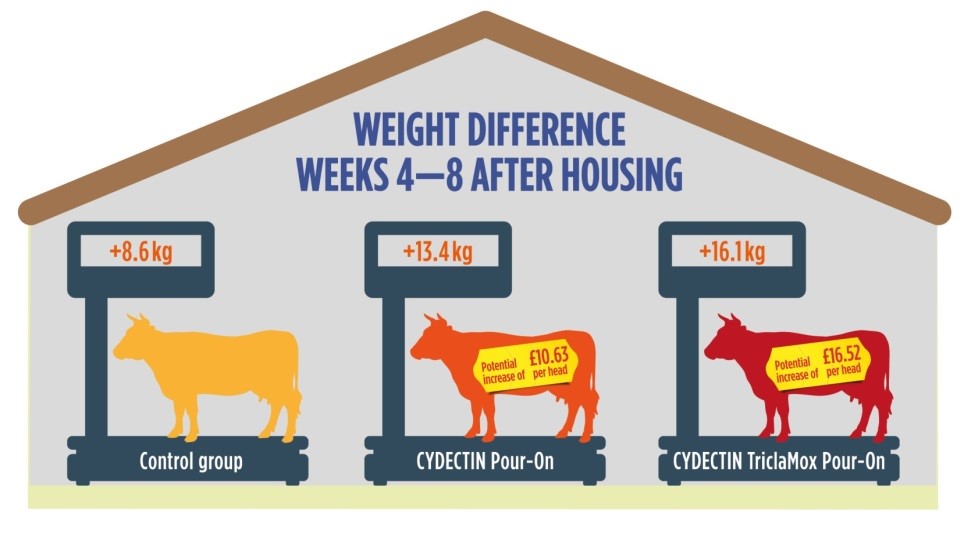 Therefore, treating cattle for worms and fluke at housing has been shown to produce both production and management benefits; from an animal management point of view, it reduces the need for further handling of animals later in the housing period. From a productivity perspective, animals that were treated at housing had the potential to finish up to 12 days before untreated animals and also gained up to 7.5kg more delivering an extra £16.52 per head.
CYDECTIN® TriclaMox® is the only combination fluke and worm product to provide both a persistent wormer and triclabendazole - no other Pour-on or injection is more effective against adult and immature fluke. Treating cattle at housing rather than delaying treatment has been found to improve growth rates compared to animals receiving delayed treatment or no treatment at all.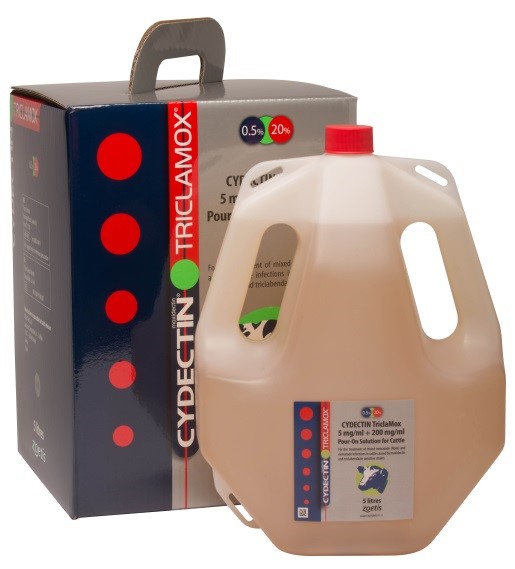 One treatment for stomach worm, lungworm, lice and liver fluke control

Reduced stress, cattle only need to be handled once

Easy to use Rainfast Pour-On

Ask our Experts
We've got a dedicated team of highly qualified veterinary surgeons to help you and your business meet the challenges your customers face throughout all seasons. Contact your local Account Manager and ask for our spring detailer to find out more about how the team can help.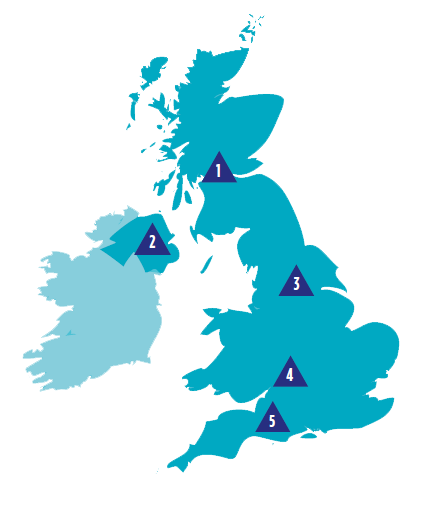 1. COLIN PENNY - 07775 740124 - colin.penny@zoetis.com

2. JAN VAN DIJK - 0845 300 8034 - jan.vandijk@zoetis.com

3. ALLY ANDERSON - 07879 890851 - ally.anderson@zoetis.com

4. JOSH BATTERHAM - 07741 129221 - josh.batterham@zoetis.com

5. KATE INGRAM - 07917 000697 - kate.ingram@zoetis.com
References:
1.Miller et al Veterinary Parasitology doi:10.1016/j.vetpar2011.11.063
2.Sheep Health and Welfare Group Report (2016)
3. Armstrong.D. A Farm-based Trial to Compare Effectiveness of Parasite Treatment in the Winter Housing Period. Displayed at British Cattle Veterinary Association Congress 2018, Hinckley Island, Leicestershire. 18th‑20th October 2018
cydectin triclamox 1 mg/ml + 50 mg/ml oral solution for sheep contains moxidectin and triclabendazole. pom-vps cydectin triclamox 5 mg/ml + 200 mg/ml pour-on solution for cattle contains moxidectin and triclabendazole. POM-VPS. For further information please see the product's SPC or contact Zoetis UK Limited, Walton Oaks, Dorking Road, Tadworth, Surrey KT20 7NS. www.zoetis.co.uk. Customer Support: 0845 300 8034. Use medicines responsibly (www.noah.co.uk/responsible). Date of preparation: June 2018 AH463/18

You are leaving the country website to access another site in the group.
Regulatory constraints and medical practices vary from country to country. Consequently, the information provided on the site in which you enter may not be suitable for use in your country.