Latest Zoetis Update on IsoFlo® (ISOFLURANE) Supply
WALTON OAKS, SURREY – 31 Jan 2019 Zoetis UK Ltd.
To accompany our previous communications of an issue with the supply of IsoFlo (Isoflurane), the volatile anaesthetic, Zoetis is very pleased to confirm that restocking of the UK market will commence in the first week of February, earlier than we originally anticipated. We would therefore like to provide the following update to our customers and the wider veterinary market on re-supply of the IsoFlo back in to the market;
We will continue to work with the Veterinary Medicines Directorate (VMD), British Veterinary Association (BVA), British Small Animal Veterinary Association (BSAVA), British Equine Veterinary Association (BEVA), and veterinary wholesalers to ensure the smoothest transition back to restocking and meeting the industry's demand for IsoFlo.
Once restocking has commenced it will take several weeks to fully normalise supply. We will work with wholesalers to ensure we are able to resupply as many practices as possible as our inventory builds. We would ask our customers to maintain their access to SevoFlo® or their other chosen alternative during this transition period.
Whilst we are aware veterinary customers will be making every effort to obtain product, should you need any supporting advice during this transition and restocking phase, please consult the links below;
Zoetis supply approximately two thirds of the UK's total Isoflurane anaesthetic gas needs with IsoFlo. We have worked closely with our third-party manufacturing facility to resolve the recent situation impacting European and wider International markets.
Zoetis would like to thank our veterinary customers and the wider industry for their support and creating a strong team-work approach to managing this situation. The numerous actions performed across the veterinary industry has helped to ensure levels of patient care and safety has been maintained.
About Zoetis
Zoetis is the leading animal health company, dedicated to supporting its customers and their businesses. Building on more than 60 years of experience in animal health, Zoetis discovers, develops, manufactures and markets veterinary vaccines and medicines, complemented by diagnostic products, genetic tests, biodevices and a range of services. Zoetis serves veterinarians, livestock producers and people who raise and care for farm and companion animals with sales of its products in more than 100 countries. In 2017, the company generated annual revenue of $5.3 billion with approximately 9,000 employees. For more information, visit www.zoetis.com.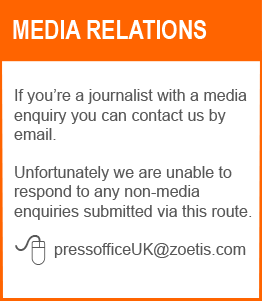 You are leaving the country website to access another site in the group.
Regulatory constraints and medical practices vary from country to country. Consequently, the information provided on the site in which you enter may not be suitable for use in your country.