Home / Press Releases / Zoetis acquires veterinary engagement software company, Virtual Recall
Zoetis acquires veterinary engagement software company, Virtual Recall
LEATHERHEAD, SURREY - 21 July 2020
Zoetis has acquired Virtual Recall, an innovative business that helps veterinary practices to improve their service offering and communication with pet owners.
"This is an exciting opportunity for Zoetis to add a new solution for veterinarians with an innovative service that will support clinics in increasing their level of compliance, education and engagement at the pet owner level," said Jamie Brannan, Senior Vice President UK, Ireland and Nordics.
"As we expand our comprehensive offering across the continuum of care for veterinary clinics, Virtual Recall will enhance the level of pet owner services that can be offered to their pet owner customers in the UK, Australia and New Zealand," he added.
"Our studies have shown that veterinary customers are keen to reduce administrative workload and find new ways to engage with pet owners. We believe that Virtual Recall will achieve that, helping to educate and improve pet owner compliance and adding financial benefits to the veterinary practice."
Through this acquisition, Zoetis is able to offer veterinary customers in the UK, Australia and New Zealand a customer engagement software that improves client experience beyond the consulting room, enhances animal health and welfare, and increases profitability, while reducing workloads in the clinic.
It remains business as usual so please do stay in touch with your Zoetis Account Manager and your Virtual Recall contacts for day to day business discussions.
About Zoetis
Zoetis is the leading animal health company, dedicated to supporting its customers and their businesses. Building on more than 65 years of experience in animal health, Zoetis discovers, develops, manufactures and commercializes medicines, vaccines and diagnostic products, which are complemented by biodevices, genetic tests and a range of services. Zoetis serves veterinarians, livestock producers and people who raise and care for farm and companion animals with sales of its products in more than 100 countries. In 2019, the company generated annual revenue of $6.3 billion with approximately 10,600 employees. For more information, visit www.zoetis.com.
About Virtual Recall
Virtual Recall was established by two UK veterinarians who followed a desire for a simple, cost-effective way to communicate with clients and help keep their animals as healthy as possible. Unable to find a good enough solution, they built one. Co-founders Jamie Crittall and Charlie Barton launched Virtual Recall Ltd in 2011 to offer simple, profitable client communications to other veterinarians like themselves. Their vision was, and still is, to enhance the bond between veterinarians and their clients (and their pets) by transforming client service, improving animal health and delivering extraordinary top-line profits. www.virtualrecall.com.
For further media enquiries please contact Sarah Heming, Director of Public Affairs & Customer Relations, UK, Ire & Nordics sarah.heming@zoetis.com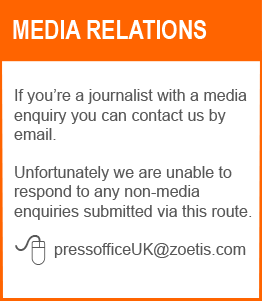 You are leaving the country website to access another site in the group.
Regulatory constraints and medical practices vary from country to country. Consequently, the information provided on the site in which you enter may not be suitable for use in your country.