Home / Press Releases / Zoetis UK Statement Following The Equine Flu Outbreak - For Horse Owners
Zoetis UK Statement Following The Equine Flu Outbreak - For Horse Owners
WALTON OAKS, SURREY – 8 February 2019 Zoetis UK Ltd.
Zoetis is aware of possible customer concerns about the current Equine Influenza outbreak and knowing more about the available vaccines. The Zoetis vaccinations are Equip® Flu and Equip® Flu and Tetanus vaccines (Equip® F or Equip® FT) and we would like to share the following information;
Zoetis can confirm that Equip F and Equip FT are both indicated for reduction in clinical signs caused by Equine Influenza, including Florida Clade 1 strains.
Protection has been demonstrated in multiple clinical studies and Zoetis is confident that the Equip range continues to be effective against its licensed indications.
In the UK to date we have had no cases of flu reported in horses vaccinated with Equip F or Equip FT.
Zoetis is confident that the Equip range continues to be effective against its licensed indications. For more information please see the Animal Health Trust (AHT) website and the updated release from the British Equestrian Federation (BEF):
https://www.aht.org.uk/news/statement-on-equine-influenza-outbreaks-in-vaccinated-horses
https://www.bef.co.uk/News-Detail.aspx?news=equine-flu-outbreak
If you have any concerns that your horse may be showing signs of equine influenza or you require further information please contact your veterinary surgeon.
About Zoetis
Zoetis is the leading animal health company, dedicated to supporting its customers and their businesses. Building on more than 60 years of experience in animal health, Zoetis discovers, develops, manufactures and markets veterinary vaccines and medicines, complemented by diagnostic products, genetic tests, biodevices and a range of services. Zoetis serves veterinarians, livestock producers and people who raise and care for farm and companion animals with sales of its products in more than 100 countries. In 2017, the company generated annual revenue of $5.3 billion with approximately 9,000 employees. For more information, visit www.zoetis.com.
MM-04669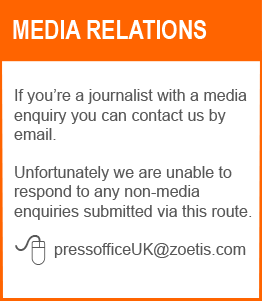 You are leaving the country website to access another site in the group.
Regulatory constraints and medical practices vary from country to country. Consequently, the information provided on the site in which you enter may not be suitable for use in your country.