Zoetis UK – Updated Brexit position statement
Correcting nested headings
Correcting nested headings
Correcting nested headings
WALTON OAKS, SURREY – 24 Jan 2019 Zoetis UK Ltd.
Since the BREXIT vote in 2016, Zoetis continues to work closely with stakeholders including the Veterinary Medicines Directorate (VMD), the National Office for Animal Health (NOAH) and others to facilitate continuous supply of its medicines.
Although uncertainties remain, Zoetis would like to reassure those who supply, prescribe or use our products that we continue to monitor the situation and plan to minimise the impact. Specifically, we have taken the following steps: .
We have reviewed our product range stock and are bringing forward planned deliveries to ensure additional stock (3 months) is in the UK. This includes arranged additional space, including for refrigerated products, and back-up options for extra space if needed.
Zoetis medicines are brought into the UK using several ports and carriers to avoid reliance on any single location e.g. in the event of long queues at Customs. Please note Zoetis do not over-rely on Dover for our deliveries. We are also discussing additional contingency plans with the UK authorities and internally with the Zoetis Supply Chain.
Our normal commercial terms will continue to apply. We aim to manage market demand by matching supply with forecast customer demand and orders. We have actively communicated our plans to Wholesaler partners and key customers. Zoetis aim to manage supply from our warehouse and avoid stockpiling.
Going forward, Zoetis do not anticipate any issues with European (centralised) medicines or any medicines made in the EU as the VMD and UK government have indicated normal supply will be permitted for the foreseeable future.
These plans will remain effective regardless of a Deal or No Deal outcome. However, it is important to remember that we cannot plan for unforeseen significant events to be considered.
Zoetis, as part of and via NOAH, have also been working with the VMD and the Department of Environment, Food and Rural Affairs (DEFRA) on Brexit planning and the supply chain and are doing all that we can to maintain unaffected supply of pharmaceutical imports into the UK.
We remain confident that our planning and actions will facilitate supply of our veterinary medicines and trust our customers will not see impact on medicines availability.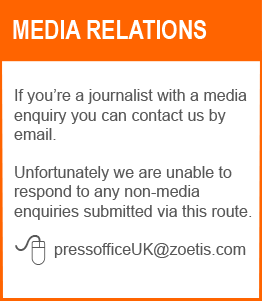 You are leaving the country website to access another site in the group.
Regulatory constraints and medical practices vary from country to country. Consequently, the information provided on the site in which you enter may not be suitable for use in your country.