Current State Of Disease
Prevalence of osteoarthritis (OA) in dogs is believed to be greater than 20%1 and growing as dogs live longer and obesity is becoming more of an issue. It is likely that 2 out of every 5 dogs in your practice have clinical signs of OA2.
OA is caused by many factors, including developmental issues, injury and obesity. Poor conformation often leads to OA early in life. Conformational changes impact both large (hip dysplasia) and small dogs (patellar luxations). So, both large and small dogs should be screened for OA. Dogs can show signs of pain due to OA much earlier than often recognised. Signs of OA may often be missed by pet owners as dogs hide signs of pain.
There is no cure for OA, however, early diagnosis and a multimodal management plan, including pain control, can help keep dogs active, manage weight, and support the quality of life of dogs with OA.
The content and tools on this site will provide veterinarians and veterinary nurses the latest on the Science of OA as well as resources to identify and treat dogs suffering from the pain of OA.
---
The New Science of Osteoarthritis (OA) Pain and Inflammation
Osteoarthritis continues to be a significant disease for humans and dogs alike. The lack of therapeutics based on new targets to help manage the pain associated with osteoarthritis has been a gap for over 20 years in both the human and veterinary professions but we are now on the verge of a new era in managing pain associated with OA in dogs with promising new class of products on the horizon. Find out more in this comprehensive Technical Bulletin written by B. Duncan X. Lascelles, BSc, BVSc, PhD, FRCVS, CertVA, DSAS(ST), DECVS, DACVS et al.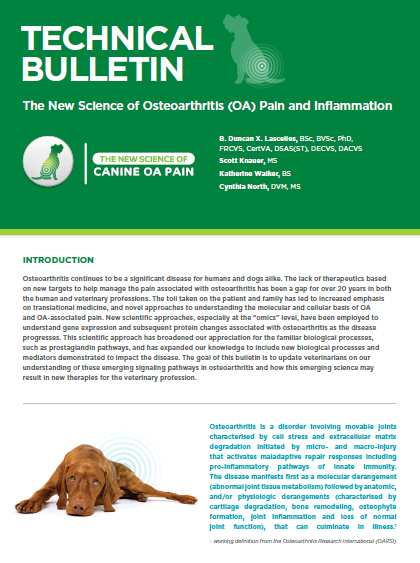 ---
Screen for Canine Osteoarthritis Pain
Ross Palmer, DVM, MS, DACVS describes how he talks with dog owners to get a good chronic pain history from them:
"Oftentimes they are discussing certain behaviors that they see, certain impairments in the dog's mobility. And then sometimes, actually, in the context just of that discussion... And this is ideal, is when they'll actually ask me, "Do you think he's in pain?" That's wonderful, because that opens up the door."
---
Osteoarthritis Checklist for Dog Owners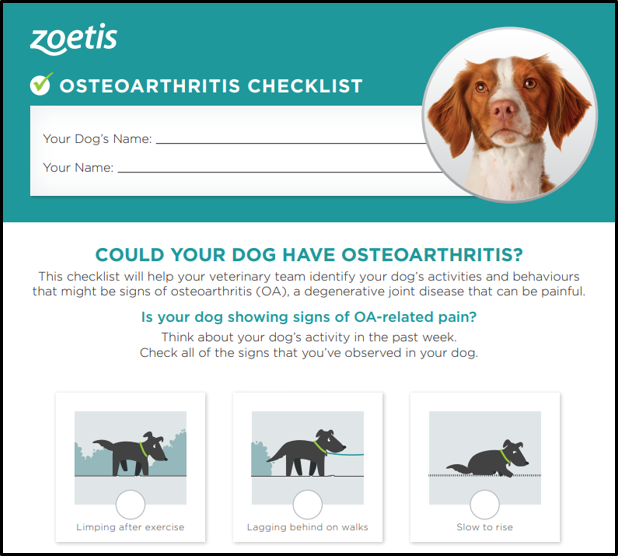 ---
References
1. Johnston SA. Vet Clin North Amer. 1997;27(4)699-723
2. Study Report No. ORCAD1030, Zoetis Inc.
MM-05890
STAY INFORMED
Get notified when new resources are added.
Other Resources
The Canine Arthritis Management group is a syndicate of various individuals (specialists/GPS/nurse, etc.) focused on addressing the challenges of canine OA.
1. Johnston SA. Vet Clin North Amer. 1997;27(4)699-723
2. Study Report No. ORCAD1030, Zoetis Inc.
MM-05007

You are leaving the country website to access another site in the group.
Regulatory constraints and medical practices vary from country to country. Consequently, the information provided on the site in which you enter may not be suitable for use in your country.