Protecting the health of youngstock is vital to protecting the future performance of your herd, whether it is beef or dairy.
Many factors can influence calf performance. One being respiratory health.
Maintaining good respiratory health helps improve calf performance and specifically growth rates, ensuring:
For Dairy Cattle:

Decreased age at 1st calving1
Improved milk yield2,3
Increased longevity in the herd4

For Beef Cattle:

Reduced finishing times
Reduced feed & labour costs
Increased sale weights
MANAGING RESPIRATORY HEALTH
Vaccination
Combined with other measures aimed at ensuring good respiratory health, early protection through vaccination against the key viruses should be an integral part of good calf management.
Colostrum
New-born calves rely on antibodies from colostrum to help protect them. They should:
Receive at least 3 litres (or 10% of body weight) within 2 hours of birth.
Be in a calm environment to reduce stress, so maximising absorption of the important antibodies.
The quality of colostrum is important and can be tested using a Brix refractometer or colostrometer. Only feed colostrum with at least 50 g/l of antibody.
Where suckling is relied on, observe calves carefully; 20 minutes of continuous sucking is required to consume 3 litres of colostrum.
Housing
For all calves moisture levels, air quality and air speed in a building can significantly affect prevalence and severity of pneumonia. Young calves also need to be able to nest and keep warm and therefore require a draft free environment with plenty of clean, dry bedding.
Group sizes
More animals means more infectious agents are breathed out, increasing the challenge level, and increased levels of moisture allow bacteria and viruses to survive for longer. Ideally keep dairy/reared calves in groups of less than 12 and weaned suckled calves in pens of no more than 30.
RELATED ARTICLES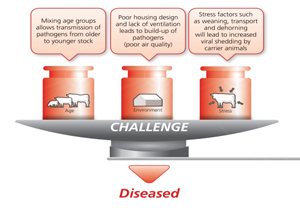 HOW VACCINATING TO PROTECT RESPIRATORY HEALTH CAN HELP SAVE YOU MONEY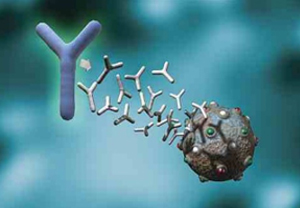 VACCINES – WHAT ARE THEY AND HOW DO THEY WORK?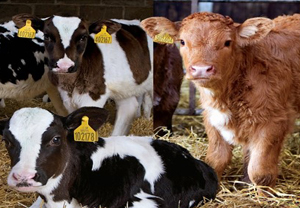 WHICH VACCINES, WHEN? CHOOSING A VACCINATION PROTOCOL FOR PNEUMONIA
1 VAN DER FELS-KLERX, H.J. et al. (2002) Livestock Production Science 75, 157-166
2 BACH, A. (2012) J Anim Sci 90, 1835-1845.
3 MORRISON, S. (2013) Veterinary Ireland Journal Vol 3 (5) 264-268
4 BACH, A. (2011) J Dairy Sci 94 (2), 1052-1057

You are leaving the country website to access another site in the group.
Regulatory constraints and medical practices vary from country to country. Consequently, the information provided on the site in which you enter may not be suitable for use in your country.