STRATEGIC DRENCHING
Drench resistance can be effectively managed by using strategic drenching and an integrated approach to worm management - such as those recommended by SCOPS (Sustainable Control of Parasites in Sheep). A strategic drench plan should include a Knockout Drench, as well as Exit and Quarantine drenches.


Why Quarantine?
The objective of quarantine treatments is to minimise the chance you will introduce resistant worms (and sheep scab) into your flock.
Quarantine should be applied to all in-coming sheep. This includes those purchased from other flocks (including rams) and sheep which have been grazing on other farms (or common grazing) where the resistance status is unknown or likely to be different from the home farm.
Quarantine recommendations are to use two highly effective products sequentially, STARTECT contains two different anthelmintic groups and avoids the costs and complications of utilising two worming products.
Knockout Drench
A Knockout Drench is the substitution of one necessary lamb drench with a novel drench active.
Resistant parasites which have accumulated and survived preceding drenches are then knocked out by STARTECT.
A Knockout lamb drench has been shown to delay the onset of resistance to the routine drenches1
The effect is time sensitive, the most useful time is later in the drenching program but just prior to the time of most egg development or larval survival on pasture –i.e. late summer
Start ideally when there is no detectable resistance or when resistance is at a low level to have the greatest effect.
All sheep farmers should be adding in a Knockout Drench into their preventative drenching programs.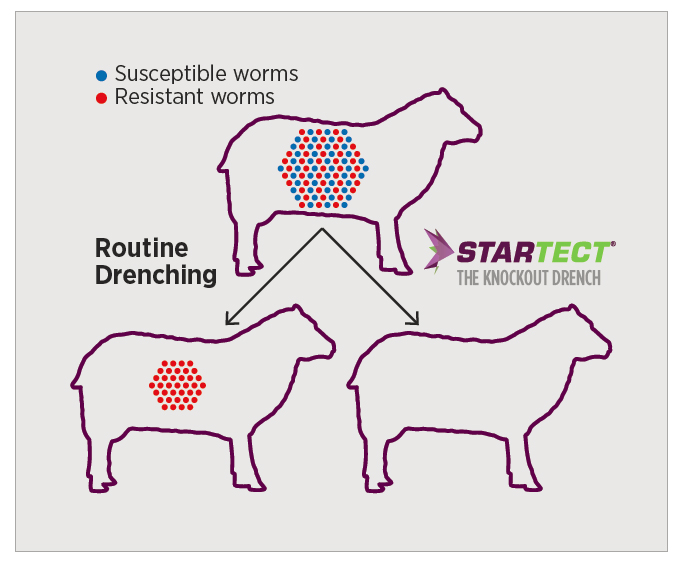 REFERENCES
1 DM Leathwick & BC Hosking, 2009 Managing anthelmintic resistance: Modelling strategic use of a new anthelmintic class to slow the development of resistance to existing classes
Startect® contains derquantel and abamectin, POM V
For further information please see the product SPC, or contact your veterinary surgeon
or Zoetis UK Ltd, Walton Oaks, Dorking Road, Walton on the Hill, Tadworth, Surrey, KT20 7NS. Customer Support 0845 3008034. www.zoetis.co.uk.
Always seek the advice of your medicines provider. Use medicines responsibly (www.noah.co.uk/responsible)

You are leaving the country website to access another site in the group.
Regulatory constraints and medical practices vary from country to country. Consequently, the information provided on the site in which you enter may not be suitable for use in your country.