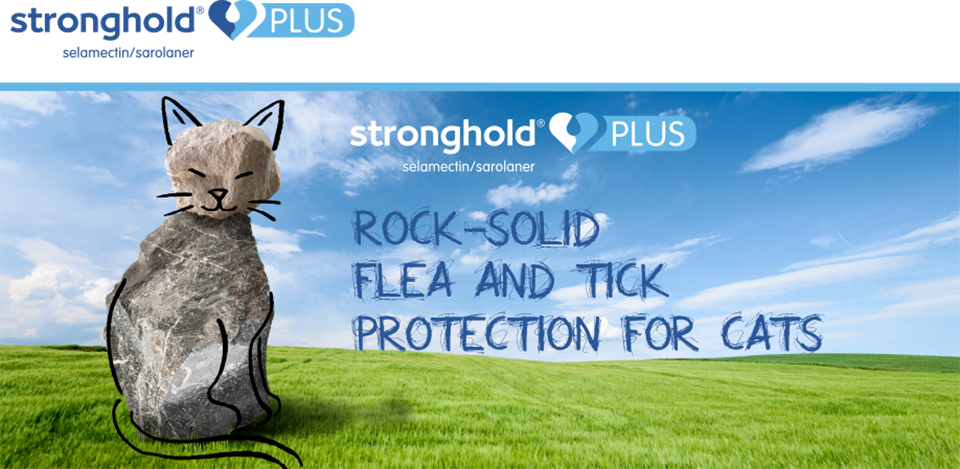 STRONGHOLD® PLUS: KEY BENEFITS

STRONGHOLD® PLUS IS WELL TOLERATED IN CATS

Safety information2

Age

For cats from 8 weeks of age

Weight

For cats from 1.25kg bodyweight

Overdose

Well-tolerated at repeated multiple doses up to 5x the maximum recommended dose*5,6

Accidental ingestion

After accidental oral ingestion, transient gastrointestinal effects may occur:

Salivation
Soft faeces
Emesis
Reduced food consumption

Adverse reaction

Uncommonly observed adverse events in field safety and efficacy studies:

Alopecia
Mild pruritus
Drooling

*A single cat, administered 5 times the maximum dose displayed transient hypersensitivity to touch, piloerection, mydriasis and
mild tremor, which resolved without treatment.

STRONGHOLD® PLUS: THE RANGE

Dosing table

Pipette (ml)

Selamectin (mg)

Sarolaner (mg)

Cats ≤2.5kg

0.25

15

2.5

Cats >2.5–5kg

0.5

30

5

Cats >5–10kg

1

60

10

Cats >10kg

Appropriate combination of pipettes

A LIFETIME SOLUTION
want to know more about stronghold® plus?
request an appointment to speak to a zoetis account manager
Thank you for submitting your request
A Zoetis Account Manager will be in contact shortly.