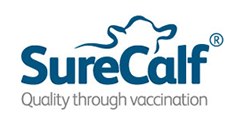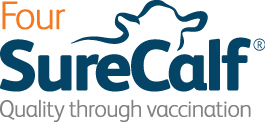 SureCalf Four is ideal for calves sold in the autumn, prior to their first winter housing season. Calves are vaccinated pre-sale against the three key respiratory viruses: BRSv, Pi3v, and IBR, and also against the immunosuppressive effects of BVDv. Infection with BVDv can increase both the risk and severity of a respiratory disease outbreak.

Calves over three months of age are vaccinated with two doses of Rispoval 4*, the second dose being given 2-8 weeks prior to sale.
This ensures that calves are protected against the respiratory viruses, including BVDv, as they pass through market, and that the buyer benefits from up to six months ongoing cover ensuring calves are protected during the winter housing period.
How it works
Sellers Register their calves for free, at least 2 weeks prior to sale by calling the SureCalf Helpline on 0800 668 1886.
Sellers receive personalised SureCalf certificates which provide details of the vaccines used and dates of administration.
On the day of the sale, the seller provides the buyer with a signed certificate as a declaration of compliance with the requirements of the SureCalf Programme.
*Two doses of Rispoval 4 can be replaced with two doses of Rispoval 3 and a single dose of Tracherine™ or Rispoval IBR Marker Live. Please refer to the SureCalf terms and conditions for further details.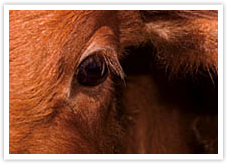 Frequently Asked Questions
For answers to questions you may have about SureCalf or how to register.
Quality Calves Through Vaccination
Brought to you by Zoetis
© Copyright, 2013. Zoetis UK Limited. All rights reserved.
Zoetis UK Limited is a company registered in England. Registration No: 08116609. Registered Office: 5th Floor, 6 St Andrew Street, London, EC4A 3AE UK.

You are leaving the country website to access another site in the group.
Regulatory constraints and medical practices vary from country to country. Consequently, the information provided on the site in which you enter may not be suitable for use in your country.